Destiny Review
Carrying the reputation of being the most expensive video game of all time, it was clear at the start that Destiny would be a commercial success right out of the gates. It was easy to get sucked into the ambiance that is Bungie's new intellectual property that boasts a $500 million budget. By the end of Destiny you'll be left dumbfounded at how this fully priced triple A title fails to establish any sort of investment from you.
During the opening cinematic alone it feels as tho the narrative has already been butchered into chapters being ready to sold back to us as future downloadable content. It's a two minute explaination of the Traveler, a spherical entity far from our galaxy that brings great advances into scientific miracles. Shortly thereafter, alien factions and the Darkness come to earth and wipe out every city, but one. It is about you as a Guardian to push the factions back and reclaim control of the galaxy. That quick exposition is the only morsel of information we get about this universe and it's lore for the rest of the game. Even the origins of the Traveler and other alien factions are unknown, conveniently. This all sets up for a generic story that we've heard far too many times.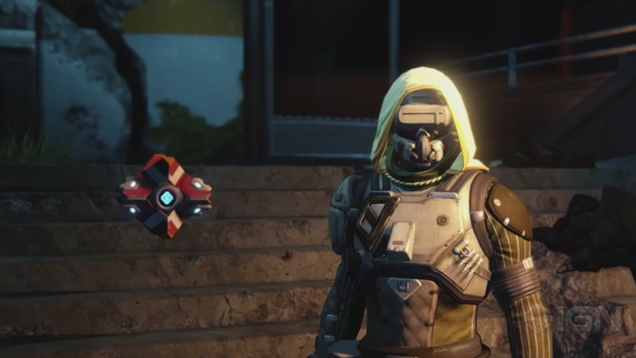 You are resurrected centuries into the future by a Ghost. Not the supernatural kind, but a robot that works for the Traveler voiced by Peter Dinklage. The main protagonist must have been a real asshole in the past, because upon waking up he has no reaction to what has just happened and no questions are asked for the remainder of the game. He just grabs his gun and starts shooting everything. There is no explanation for the motives of the Darkness, nor any of the alien factions or any character in the game for that matter. There is zero explanation for anything that is going on in this game.
You start off by creating your Guardian, being able to choose 1 of 3 races. Human, Awoken or Exo. Why the humans ally with the Awoken or Exo is never explained, they're just fucking there. The choices for facial features, hair, and cosmetics are lackluster. The fact that the only time you can see your character's face is in the main hub doesn't help either. Known as the Tower this is where you can turn in for mission rewards, bounties and purchase gear for your avatar. Last city in the universe and you can explore the entire thing in 5 minutes. Thank you Bungie.
Three classes are then presented to you to choose from: Warlock, Titan and Hunter. All of them are varied and do present different gameplay mechanics, not only that but when you reach level 15 you will have an option to access a sub-class allowing you two have two different playstyles. The early game progression is great, it's always exciting to level up and unlock a new ability from your skills tree, but there is absolutely is only one way to skill your character, depreciating any thought of having a second play through with the same class. Not only can you skill your abilities, but there is also a sort of progression your can have with your weapons. Adding more perks to your disposal. Post-game however is a far cry from what it just was hours ago. The level caps itself at 20, from then on you progress by finding equipment that contain Orbs of Light. Each Orb of Light granting you levels. Which is confusing as shit cause when you kill enemies with your signature abilities you gain Orbs of Light, but those Orbs only regenerate your Super meter.
To add-on to the pain, the post-game is just a mindless grindfest. The game is just littered with the same identical enemies that spawn in the same place at the same time at every playthrough. Not even the boss battles are fun, they've been reduced to 40 minute bullet sponges that don't even guarantee loot drops. Sometimes the bosses for missions are just bigger or recolored versions of regular enemies.
I hope you got a nice looking ship, because you're gonna be starting at it an awful lot. You can't even fly the piece of shit. IT'S JUST A LOADING SCREEN. The kicker to this? You start in the same spot for every mission. This is the future where you have a spaceship, and yet you choose to land on the same spot every time you visit a certain planet. And remember when you got to choose how your character looks? ITS DOESN'T MATTER cause they're wearing a helmet the entire fucking game, and there's no option to be able to take it off. It's like what were they thinking. This game is by no means an MMO, in fact it's as linear as Super Mario World. And that's being generous.
Under the direction of Bungie, it's a no brainer that the combat mechanics are top notch. It's the amazing gunplay of Halo mixed with a new layer of verticality, mobility and turmoil. Being able to scale the levels with your double jump, blink, or jetpack depending on which class you chose. It keeps the action frantic and allows you to pop in and out of battle quickly. With the promise of a expansive loot system, it's disappointing to find out weapon models and sound files are recycled a la Borderlands 1 style. Bungie claims that Destiny to be an MMO, yet there is no trade system so pickup class exclusive gear that you can't use during a 4 hour raid you're stuck with it.
Bungie has also left their prints on the vehicular physics of the game, the Sparrow, Pike and Interceptor are always a joy to ride. As well as being able to spawn your sparrow anywhere it's a blast to zip around, because the controls are just that finely tuned.
Another Bungie trademark is the music, and they pull no stops. Arguably the best feature in this game the music is an experience unto itself; at times even outshining the game it was designed to compliment. Voice acting on the other hand is atrocious. Your Guardian has the personality of sand paper, joining the ranks of Aiden Pierce. And by god, Peter Dinklage what have they done to you. He's been reduced to unsubtle exposition and opening doors.There have been more instances where I've had to fend off waves of enemies for extended periods of time while I wait for Mr. Dinklage to open a locked door for me. I don't know if it was the script or he phoned in all of his voice work but he's boring as shit. Like i understand that he's playing a robot, but it doesn't help he narrates the entire game and you're forced to listen to his arid performance.
Being one of the first AAA titles of current gen, one of the biggest discussions are the visuals and graphical prowess these new games bring us and Destiny shattered my expectations. The large vistas are absolutely breathtaking, the colors are vibrant and the world just speaks to you. They even managed to make the Moon the 2nd most interesting backdrop in the game. Coming out ahead is Venus, with it's jungles and rivers of orange Fanta. It's absolutely criminal to hinder all of this beauty with invisible barriers in the game that won't let you explore any further apart from the beaten path. Or even worse when you're presented with a message on your screen "Turn back" failing to do so will result in your Guardian's death. It's also a damn shame that the only way you can act with the world around you is by shooting things. 
The campaign just limps it's way into the credits when all is said and done and you'll be left there asking yourself "is it already over…? It's absolutely fucking pathetic how short the game is. One of the main hooks to this game was the promise of space travel, yet the 10 hour long campaign only has comes across 4 planets. Come the fuck on, the entire galaxy is opened up to you and you're limited to the Moon, Mars, Venus and Earth? THE MOON DOESN'T EVEN COUNT AS A PLANET IT'S JUST A ROCK IN SPACE.
I shit you not the number of characters outside of the NPCs that act as vendors can be counted on one hand. Not only that, but the characters that we're introduced to serve absolutely no purpose but to appear in future expansions that have probably been trimmed from the original product and regurgitated to us by order of Activision.
The Crucible, Destiny's multiplayer mode is a giant cesspool where loot item stats carryover, and one-hit kill abilities are exploited to no end. If it's you're first time playing Destiny and you hop onto multiplayer prepare to get stomped on. The initial game is packaged with a mere 10 maps and 5 modes. This will do little to satisfy any season FPS player. After a couple playthroughts I had zero desire to return.
Destiny has an identity crisis. It's trying to cater to different audiences, and fails at all fronts. At the end of the day what kind of genre do you label Destiny as? Because it's not the MMO experience that Bungie was hyping it up to be, it's sure as hell not an adventure game, and it's not even a good dungeon crawler. If we're gonna call it an FPS, it does a piss poor job to deliver to the multiplayer crowd. The game is covered in lazy design choices, the narrative is non existent, the game doesn't even do a good job of explaining how to use it's various currencies or where to start your next mission. THE GOD DAMN MISSION MAP DOESN'T EVEN HAVE A LEGEND FOR IT'S SYMBOLS.
Bungie cut so many corners to get this game out as soon as possible and it's evident. No other game in history has had this much attention towards it prerelease, and we happily gave our preorder money to it. Not to mention people who have purchased the limited edition which gives them the first two expansion packs for $30. This is an actual turning point in the industry. Simply put, if we don't want this kind of shit to go down again with another high budget title then we don't preorder. We need to stop giving them our money in exchange for empty promises.
5/10
Probably one of my worse reviews, mainly cause this game made me so angry. Was always treading off into a rant. 
And for anybody asking if any of the current generation consoles are worth purchasing, the quick answer is no. Stay the fuck away. Fuck this shit, back to PC gaming.